Alpha : For the young starters
The primary objective of this project was to develop a social network for any given audience. This simple brief was taken forward and defined further to create Alpha : For the young starters. Alpha was created with the aim of providing a safe networking platform for the parents and their children within a community - a school, a neighborhood or an activity club.
The project was developed in seven parts with my team of 4 and our roles varied throughout the course of this project. My role included Secondary and Primary Research, Concept Development, Prototyping and Testing, Branding & Graphic Design.

Group Members: Vaibhav Bhanot, Shreya Dhawan, Summer Qiao and Garima Gupta
Skillset Used: Design Research & Strategy, Business Development & Innovation, UX Design
PART 1 : SOCIAL NETWORK ANALYSIS
The initial alignment and understanding of the brief started with a learning of social networks in areas and with a lens never looked through before. A ton of social networks were researched to gather numbers and facts and thoroughly analyzed to better understand the field we will be playing in for the next eight weeks. My role included conducting qualitative and quantitative secondary research on different areas defined by the team and derive first phase insights to aid the next steps of the research process. We created several mind maps and opportunity maps to identify "who" are targeted users will be and where our "Blue Ocean" is.
PART 2 : NETWORK CONCEPTS
Post social network analysis, a round of quick concept iterations was carried out. The team did two sessions of brainstorming to come up with 10 different concepts based off the opportunity maps. Four of these concepts were taken forward into validation and was pressure tested using various tools to identify the novelty, strength and weakness. Some of the tools used in this stage were 5W and 1H, 2x2 Analysis and SWOT Analysis.
PART 3 : NETWORK USERS
The concept of "Lost in Translation" was further chosen as the most innovative concept and taken forward to another stage of development. The team used the 17 steps of ZAG from Marty Neumeier's book - The Zag to establish the innovation brought with this concept followed by a popular media scan and gathering quality key facts to check for redundancy of the concept in the industry.

This gave birth to Glyphalyst - a catalyst for global communication. This concept aimed to leverage the power of glyphs/signs in order to create a universal language of communication between individuals from different cultural backgrounds. Stakeholder map, convergence map, Offering-Activity-Culture map and Empathy maps all helped us give better to shape to Glyphalyst. Meanwhile, the team used to Sidewalk Arts festival as a perfect opportunity to test this idea with the help of two cultural probes with the real users since majority of the population at the fest was international.
WHY DID GLYPHALYST NOT WORK?
At this point in our journey, we faced a major road block. We realized that the weaknesses and threats of the concept overpowered the strengths and opportunities because of the following reasons:
a. Visual communication can be a powerful mode of communication but it can't replace the existing way that people communicate.
b. This way of communication will completely fail in emergency situations.
c. Different people can have different interpretations of the same image, and this can lead to confused communication.
d. Icons and images can be a possible tool to communicate but may not develop into a successful social network that connects people globally.
PART 4 : REFRAME
The interaction and the initial testing with the user groups outside of the class walls gave us an interesting observation. We observed kids and their parents showing more interest and indulgence in our activities throughout the fest which made us redefine our user groups and reframe our project to give rise to Alpha.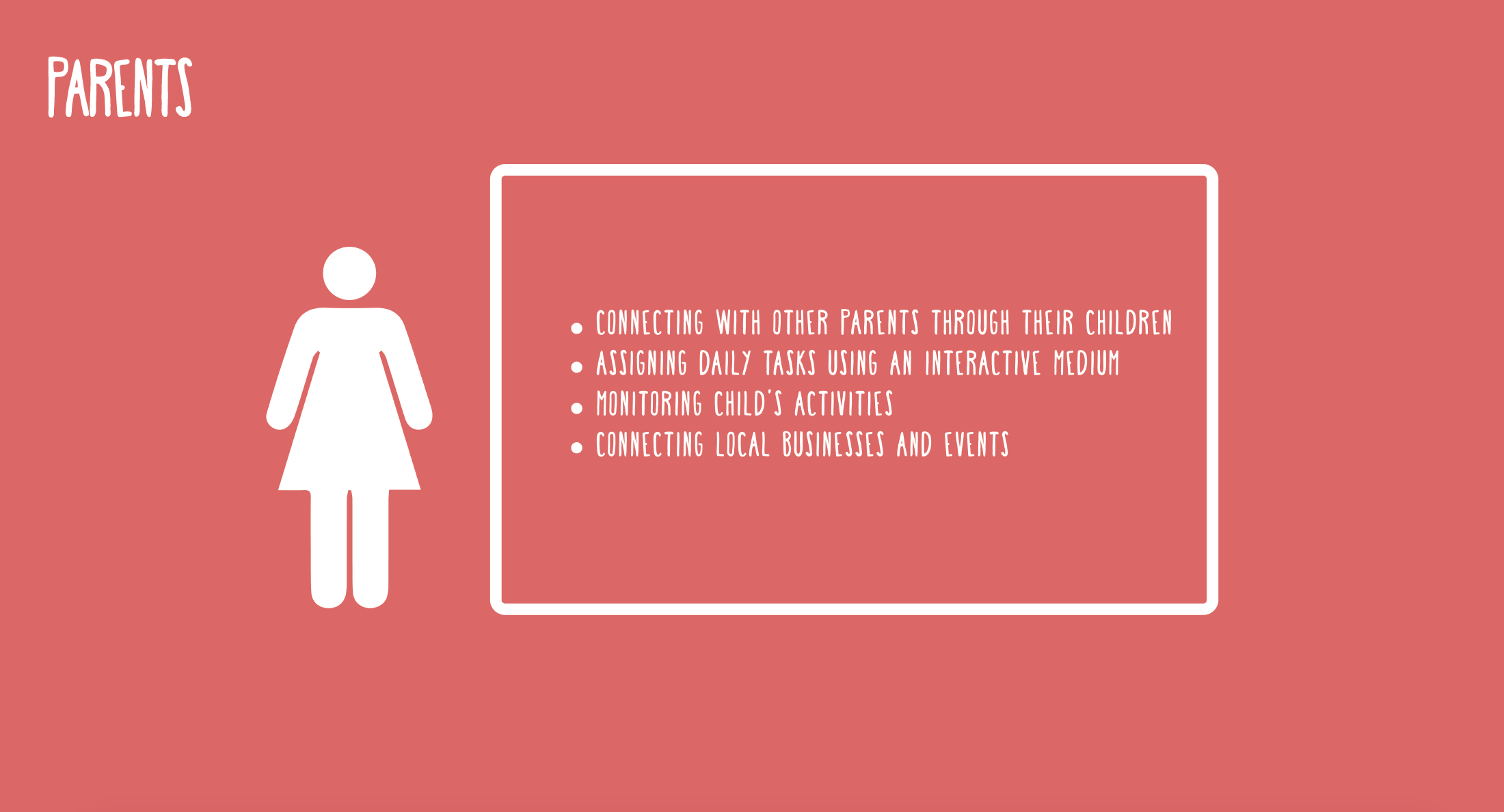 An interesting part of this process was to create empathy maps from a Business perspective - how a business in partnership with Alpha would Think & Feel, Say & Do, Hear and See in addition to their Pains and Gains with this association. It brought a uniques perspective to our business strategy helping us better our offerings so they remain of interest to all associated parties.
PART 5 : BUSINESS MODEL
The team created a working business model using Alex Osterwalder's Business Model Canvas with a deeper focus on the customer relationships and revenue streams for the social network. At this stage, the understanding and refinement really helped give matter to the newly iterated concept. In addition, the Zag further helped us prove the novelty and innovativeness.
PART 6 : COMPETITORS ANALYSIS
This section includes conducting a thorough competitive analysis using different tools and methods for better brand positioning and offerings. This helped us maintain a secure yet unique position amongst competitors knowing the user group we were dealing with was very sensitive and required a different level of critical considerations in order to be adopted and accepted. There are a whole set of rules when it comes to designing for kids and the team was considerate of all the rules, regulations and restrictions.
PART 7 : BRANDING AND PROTOTYPING
Alpha's branding was developed with the use of kid-friendly colors and careful consideration of a style guide that would greatly attract them. The digital prototype was developed and tested amongst a number of users along with a bunch of contextual interviews conducted which overall received positive feedback. In addition, an expert interview with a child psychologist confirmed our ideas and further helped us refine the prototype to better suite the users.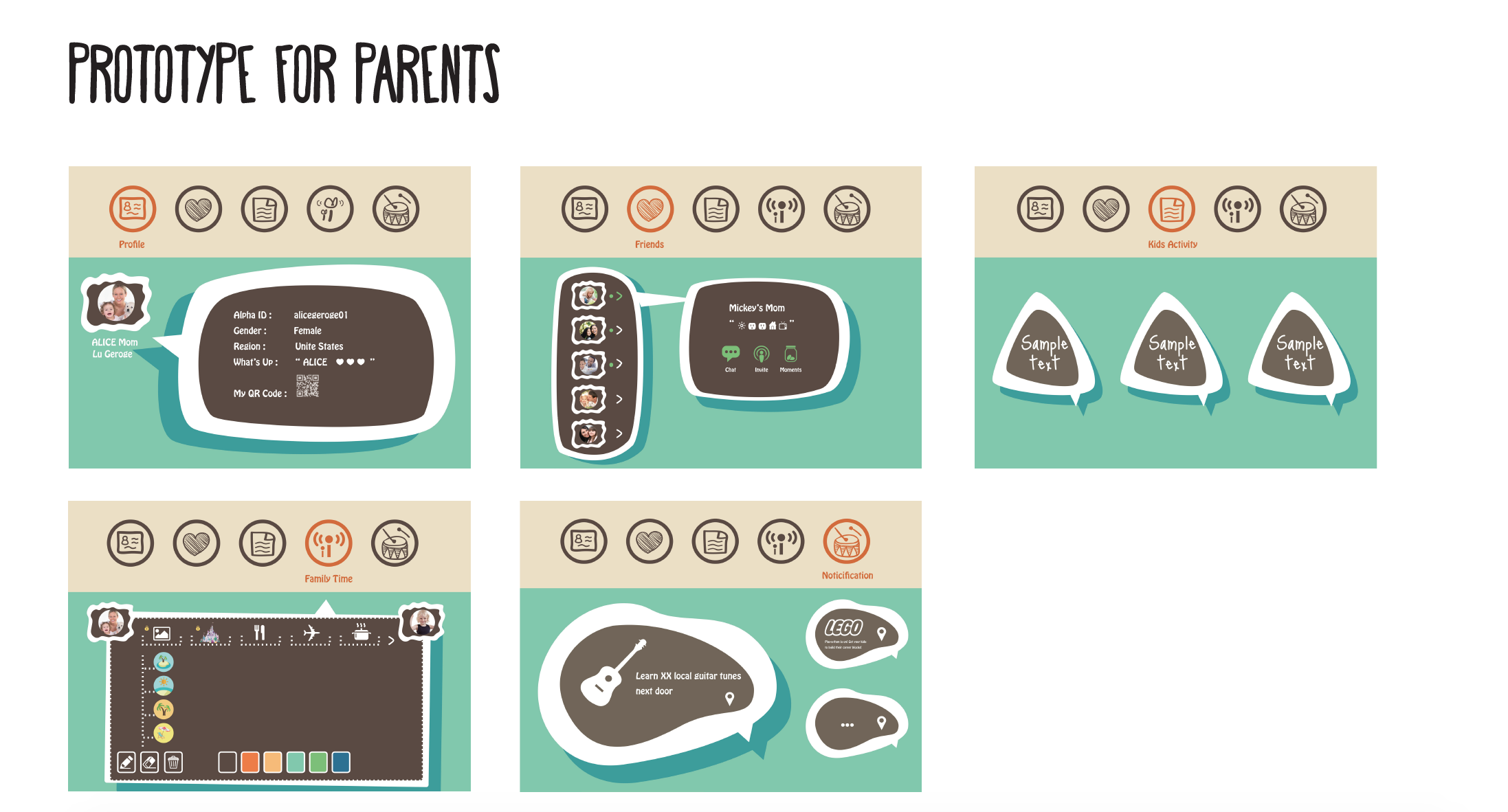 FUTURE VISIONING
A very important aspect of this project was to envision the future of our business Alpha. The team created a 10 year plan for the success of this newly developed social network cum visual communication and learning medium for kids and their parents. Our future included the birth of Beta and Gamma for the member kids who may essentially grow out of the user population. With this vision came Phi and Pi that would have differential audiences ranging from institutions to specially-abled kids. Within 10 years, infinity will be launched which will go back to our initial idea of Glyphalyst but with a twist.